THE MOST IMPORTANT CEREMONY IN AFRICA
Marriage in African culture, from North to South, East to West is hands-down one of the most significant rites of passage. It is the most celebrated ceremony in all African cultures. African weddings are a spiritual and social family affair and involve the combining of two lives, two families, and even two communities! There is no great civilization that has ever existed that abstained from marriage as one of its core fundamentals of nation building.
A man without a wife is like a vase without flowers– African Proverb
Marriage is sacred in Africa and beyond, because it solidifies relationship that enrich communities and nations by bring forth new life and new hope. African cultures celebrate the coming of the rains, the first harvest and the birth of a child. Marriage is that cultural process which ushers in new life. It is a cherished and most celebrated
rite of passage
since the dawn of African civilization. But marriage is not a human right: Human rights don't need licenses or certificates. Marriage is instead a privilege afforded by communities, between
man
and woman
for those who meet the
criteria
.
Don't tear down a fence until you know why it was put up–African Proverb
​African Muslim Couple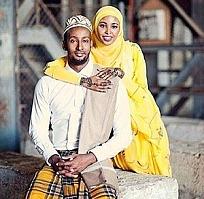 Somali Couple
Marriage is the only known incubator for the raising of balanced socially functional children. It is a civilized union of
man and woman
. The ideal setup for a child to be raised into full functionality in the African context as a contributor to civilization. It is the institutionalization of complementary relationship between male and female energies, enshrining in the child sentiments and values from both sexes. This is the formula which is secured with marriage.
Extended family systems sits in this equation by sharing responsibilities and enshrining balance. Even if a woman is unable to contribute by having her own biological children her role as a mother is expressed in a communal set up. And hence why the Pan-African proverb of it takes a village to raise a child. Parenting is communal, and the harmony of male and female energies are critical in enshrining balanced humans.




It takes a village to raise a child– African Proverb
In all the communities the bride plays a very special role and is treated with respect because she is a link between the unborn and the ancestors. A bride might eventually bear a very powerful child. Women are mothers of civilization which earns them a high status in society, thus protecting women and children is a biological human instinct.
And if a people cannot get the man and the woman into equitable agreement and commitment– then what about the nation, and the continent? In a good marriage means partners compliments each other, and makes both parties better. Marriage is a journey through life which enhances and enriching entire communities. Marriage promotes sharing, tolerance, consideration, empathy, selflessness, and other virtues. Lack of marriage is the death of a nation and a people. Communities that fail to recognize marriage become decadent and self-destructive with a range of
social
, economic and health issues (HIV, etc).
Anybody can make a baby, but a father helps to raise his children. There is another word for fatherhood. It's called responsibility Malcolm X
DEFINING MARRIAGE
When you look around the history of human civilization and see the tradition of marriage that stands independent of time, race, geography and culture. It means it is a aspect of civilization, humanity and human culture. Marriage historically has be used in political unions between nations, between different ethnic groups to secure peace, trade and development. And marriage is one thing that unites African culture, although two marriages will never be similar. You can marry in a church, a mosque, in the bush, by a priest, an Imam, minister of justice, underwater, in a tree, the core thing is marriage is a contract of commitment with rules and regulations that represent the person's culture. It is a communal relationship, a rite of passage which bonds two people and enshrines obligations and values. And even while people may get divorced they are guidelines and ethics in every culture for governing all aspects of married life. Marriage is dignity and a true sign of commitment. It defines our humanity and contributes to making us more human. It is exclusively between naturally God man members of the opposite sex.
STEPS
There are many steps that take place before marriage starting at a very young age where training takes place in how to be a suitable partner.
Girls will many times go to schools where women teach them what is involved in marriage, and in some ethnic groups even learn secret codes and languages so that they can communicate with other married women. In the Wolof people there is even a time where the elders of the village gather with the bride and give advice and gifts. Weddings can be very elaborate, involving feasting and dancing for days within a community, they can be very simple, or they can even be performed in huge marriage ceremonies involving many different couples.
In the Diaspora, especially the UK, marriage is compounded by a the social culture of the "baby- mama" syndrome. Which according to some experts is a manifestation of immaturity and lack of moral responsibility. Marriage squeeze refers to the demographic imbalance in which the number of potential brides does not approximately equal the number of potential grooms. With African men being "deleted" from the marriage pool via: inter-racial choice, prisons, sexual-orientation, etc it is having profound consequences on African-Diaspora finding suitable partners, especially if they are educated and looking for men from that social class.
GOOD AFRICAN MARRIAGE
Malcolm X and Muhammad Ali
A good relationship is not only defined by the high points, it is also defined by how people handle the low points. It is how they survive conflict and struggle in an equitable progressive way. Two people are married and they boast "We never had a disagreement, we never had an argument"— Then that marriage is untested. It is the marriage or relationship that had the weight of challenges bearing down upon them and resolved them through mutual growth —that is a real marriage. It is like a body that has an immune system for future challenges.
In the Western world because of feminism a good marriage is constructed differently from the African paradigm. Asking your wife to bring you a cup of tea while you relax and watch the game is a "no-no." But why would this be a problem in an equitable relationship, where at another stage when the wife wants to stay in bed the husband reciprocates. So a relationship is a single unit made up of two parts which complement, support, reinforce, and give pleasure to one another. All of this is wrapped in the concept of justice— what is fair to all, and what is righteous to all.
​​​​​​TRUST
Trust is everything and so much more than being sexuality faithful. Without it you might as well call it a day. Can you imagine being in a relationship where you give up your career to help put the other person through University so you both and your children can have a better life? And then they leave you. We heard stories like this before. Because in a relationship you going to have to really sacrifice (and not always in the same way) to make a better life in the longterm. We live in a world where a relationship means nothing against someone's short-term individuality, or perceived "happiness" or "sexuality." "Its not working, I am leaving". So everyone is holding back and watching their own back to minimize the damage because of lack of trust. And the hardest thing about trust is it requires both parties to do it all at once.